Do You Need Private Home Care?
Life is a journey with ups and downs, for some people, the later years in life can become problematic.  Regardless of everyone's situation, most elderly people want to stay independent in their own homes for as long as possible.  We are all getting older and some of us may eventually need private home care and support to assist our daily living.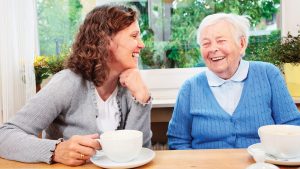 Domestic help can mean different things to the individual such as assistance with preparing and cooking meals, simple household chores like the vacuuming and dusting and even help with your shopping.  No more carrying heavy bags on the way home or bending and stretching to place food tins and cleaning products away.
Getting out and about is healthy for our body and mind.  Our helpers will assist you to social activities, take you shopping or even join you on a trip to the garden centre or local coffee shop providing companionship along the way.  There are other times when it's important to leave the house, attending doctors and hospital appointments can be an essential part of life for people who need help.  We will collect prescriptions and take the stress and worry away from such matters.
We wash, dry and iron laundry
Aside from domestic chores, our services also encompass the laundry.  Hanging clothes outside in the garden is difficult, especially if you are becoming less mobile.  Cold and winter conditions bring about potential dangers.  Not having to take unnecessary risks is invaluable for our clients.  If required, we will take your washing away and return it washed and ironed.  Gardening can also become problematic so we arrange for clients grass to be cut and other maintenance chores to be carried out.
Our team also provide much needed companion care friendship whilst performing home help tasks.  Speaking of good friendships, pets provide love but they also need vital exercise to remain healthy.  We provide dog walking services for those who are unable to walk far.
The government has introduced a personal budgets scheme which aims to provide people with more choice, control over arrangements and payments for home assistance.  However, most councils do not provide support if you only need a slight helping hand.
Needing assistance isn't unique to people in their later years. You may be younger, in employment and with children.  Home Help can arrange for your precious ones to be collected from school, we will also wait with them until you arrive home if needed.
Long and short term care and companionship
The need for help may be temporary, we appreciate that help may be needed at short notice if the unexpected arises, or whilst your family/friends take a well-earned break.
We are always willing to help, please get in touch a new friendship is just around the corner, we really do make a difference to yours or your loved ones life.